Future Watch: Steven Matz Rookie Baseball Cards, New York Mets  – Steven Matz is a hard throwing lefty in the New York Mets organization. As the team continues to build a stable of sexy starters, Matz, a Long Island native did something very special for his Major League debut.
He hurled 7-2/3 innings and gave up just two runs. Even more impressive was his 3-for-3 performance at the plate, with four RBI. Not only was he the only player in the history of the New York Mets to debut with four runs driven in, he was the first pitcher in MLB history to accomplish the feat as well.
A video of his 82-year-old grandfather went viral after fist pumping and high-fiving others in the suite after one of his grandson's big hits, as seen here: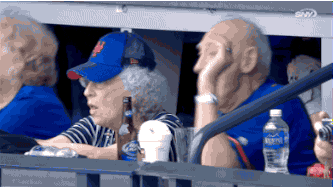 To top it off a Long Island deli named a sandwich after him called, "The Matz" and a new phrase "Eat the Matz" was born.
Steven Matz's first baseball cards debuted in 2009 Bowman Chrome Draft and 2009 Donruss Elite. His autographs from those sets are demanding insane prices on eBay.
His 2015 Bowman Chrome rookie is hot right now. The refractors are fetching some crazy prices so getting a few boxes to try and get this rookie card is the best way to go.
His second start will be on the road in Dodger Stadium against one of the best teams in baseball. If he can have another great performance he will be well on his way to becoming a player on the "hot list".
Future Watch: Steven Matz Rookie Baseball Cards, New York Mets Image Gallery
Latest posts by Russ Cohen
(see all)