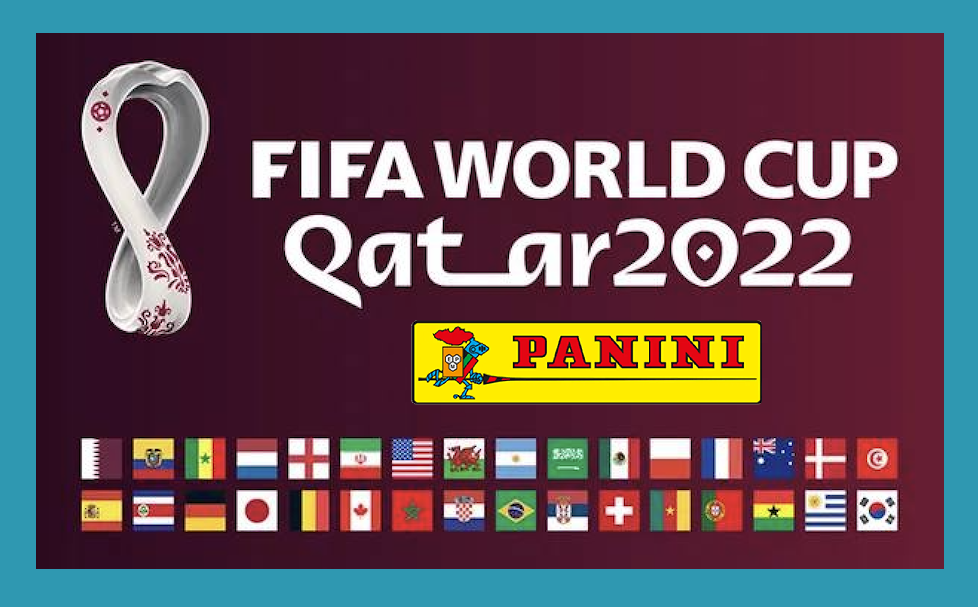 Musings: Panini Geared Up for World Cup – Soccer's biggest showcase is set to kick off as the 2022 World Cup begins on November 20. Panini has been busy preparing for the event as it strives to help fill the trading card demand for the soccer market. To find out more about the company's plans around the World Cup, I had the chance to catch up with brand manager Aik Tongtharadol.
KS: The World Cup is almost upon us. What has Panini done in preparation for the event?
AT: We've done just about all we can on the trading card and sticker sides, with all the World Cup and Road to World Cup-related releases having hit the market – except for Eminence, which should be on its way here soon. We'll also be doing Instant World Cup cards to highlight the best moments of the tournament.
KS: Soccer feels a little unique among its trading card peers in that fans seem to enjoy collecting the stickers as much as the trading cards. Perhaps even more in some cases. What do you think it is about soccer stickers that make them so desirable?
AT: The history and accessibility of stickers has really made them fun to collect for fans of all ages. Stickers were readily available decades before soccer trading cards really got a foothold in the industry, and those experiences have passed on from generation to generation. It's much like the way baseball cards took hold here, but on a global scale.
KS: From a trading card standpoint, who are some of the top players collectors should be keeping an eye on during the World Cup?
AT: As far as top players go, I think we're all looking to see what Cristiano Ronaldo and Lionel Messi can do. If either of them can hoist the FIFA World Cup trophy in what will likely be their last dance, it's going to be the ultimate cap to their already tremendous careers.
KS: Which player do you think stands to most enhance his trading card profile with a good World Cup?
AT: Christian Pulisic has lost a little bit of luster with unfortunate injuries and sporadic playing time at his club. Despite how long he's been a USMNT fixture, this is still his first World Cup, and he has a lot to gain with a strong performance in the tournament – with both collectors and his coaches.
KS: Every player on these rosters is among the most elite soccer players in the world. With that being said, is there an under-the-radar player collectors should be looking for?
AT: Many players have burst onto the scene since the 2018 World Cup, and soccer collectors are savvy when it comes to evaluating potential. Because of that, picking a truly under-the-radar player is tough. The caveat for any choice is how much playing time they ultimately receive in the tournament, so while not as recognizable a name compared to others on his team, Noa Lang could be a great surprise for the Netherlands if he's given the opportunity, I think. World Cup success for him would also be a great way to kick-off a move to a more prominent club.
KS: What about from a coaching standpoint? Could you see any of the coaches getting a bump in their trading card market with a good showing at the World Cup?
AT: Coaches don't often find their way into trading card products, even those with notable careers as a player beforehand. Spain's Luis Enrique may be most likely to get a bump given how many cards he's had previously, and he's got a great mix of experience and youth on his squad to do it.
KS: What kind of changes do you see in the market for soccer cards, both domestically and internationally, during the World Cup?
AT: Everyone loves the World Cup, domestically and internationally, and you can see the focus on those players and teams that are qualified. Not only do the best of the best participate, but the tournament also has a knack for bringing previously unheralded players into prominence as well. I think a lot of that excitement goes into predicting who that might be and what cards they have to collect.
KS: Soccer is such an international sport, and we see that in the collecting of the cards. It feels like the international market for several sports has grown so much, especially in recent years. What is Panini doing to try and further grow interest in cards internationally?
AT: The biggest thing we can do to continue growing interest internationally is simply getting cards into the hands of fans/collectors overseas. For experienced collectors, we need to make sure that our current products have accessible distribution channels. For newcomers, we'll continue to put efforts behind creating affordable and fun brands to open. I would expect to see a bigger emphasis on these markets, including more region-exclusive products, as things continue to develop.
KS: Aside from World Cup plans, what else does Panini have coming soon for soccer products?
AT: We're excited to kick off all our 2022-23 season programs shortly after the World Cup ends, both our upcoming Premier League releases and mixed league/team programs.
Hobby Musings: Panini Geared Up for World Cup – More Resources
---
Kelsey's ability to bring hobby coverage to the mainstream sports fan has been a true asset. GTS is happy to feature his thoughts on collecting in Hobby Musings. The opinions expressed are his and do not necessarily reflect those of GTS Distribution.
Latest posts by Kelsey Schroyer
(see all)